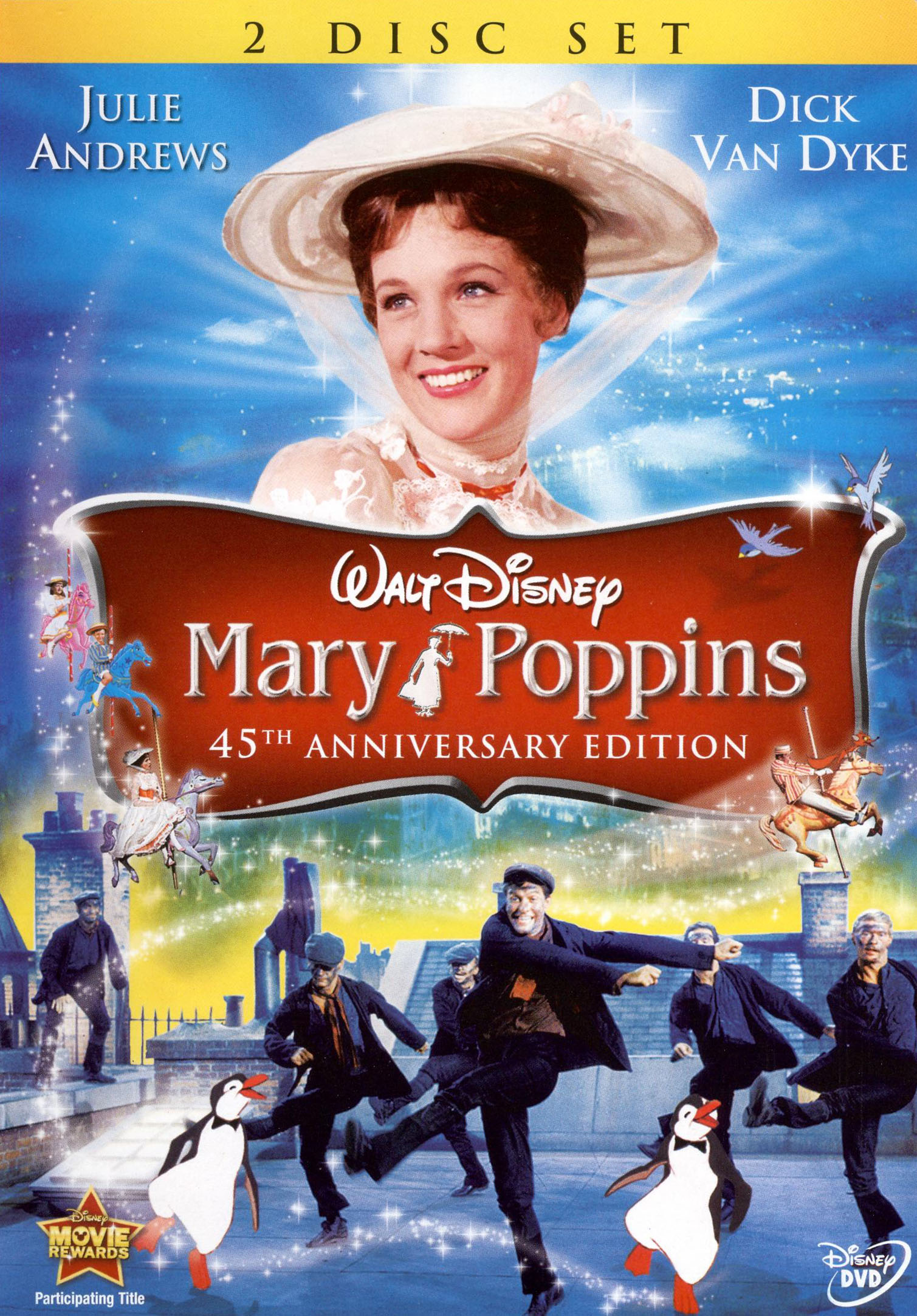 Mary Poppins is a 1964 musical starring Julie Andrews, Dick Van Dyke, David Tomlinson, and Glynis Johns. Julie Andrews plays Mary Poppins, the magical nanny who comes to work for the unhappy Banks family. The unruly children Jane and Michael Banks regularly drive their nannies away with their messy habits and tendency to escape for unsupervised adventures in the park. Their distant banker father decides to take the task of hiring a new nanny away from his distracted suffragette wife, but the children write their own job description, which mysteriously flies up the chimney and directly to Mary Poppins.
I love this movie. It charming, delightful, and full of magic and it still holds up for children today especially considering it was made nearly 50 years ago. The story it is based upon was actually written nearly 80 years ago! Most people are now aware of the fact that this Disney movie was based upon the book series written by P.L. Travers. Walt Disney actually spent 20 years working to acquire the rights to produce this movie, a story that will be brought to the big screen this December in Saving Mr. Banks. I am beyond thrilled to see this movie! Tom Hanks looks like he will be a wonderful Walt Disney, and I am very much looking forward to seeing the story of how Mary Poppins came to be. I do know that P.L. Travers was ultimately disappointed with the final result and felt it was a betrayal to her books. Though I can't yet understand how anyone could hate Mary Poppins, I am looking forward to seeing a little more of Travers' side of the story. But I am getting side tracked!! Back to Mary Poppins!
The music in Mary Poppins is delightful and the dancing is superb. Julie Andrews and Dick Van Dyke are an incredibly talented and wonderful pair! Remember the robin Mary Poppins sings with while cleaning up the nursery? That is Julie Andrews whistling! Another interesting musical fact, the song "The Beautiful Briny Sea" sung by David Tomlinson and Angela Lansbury in Bedknobs and Broomsticks was originally written for Mary Poppins. In the P.L. Travers stories Mary Poppins takes the children on many adventures, including to the bottom of the sea! The song was ultimately cut from Mary Poppins and though I would have loved to see Mary Poppins bring Jane and Michael on more adventures, I feel that this song in particular is much better suited to the Island of Naboombu!
I've spent a significant amount of time trying to decide which song is my favourite from Mary Poppins, but it doesn't seem to be working! So instead of trying to pick one I like the best, I've decided to include one of the most incredible routines I've ever watched "Step in Time!". The choreography, the set design, and even the pyrotechnics combine to make this show stopping number!
But Mary Poppins isn't just a musical joy as there was also incredible work put into combining the live-action with the animation such as the entire sequence within the chalk drawing. My favourite part of this is actually the carousel. This was an actual carousel that was built and painted to look like it was animated. The close up of the carousel operator is a close up of the actually carousel with the animation overlaid for the operator and the shadows passing him! Though, Bert's interaction with the fox is also pretty darn incredible. All around there is just so much incredible attention to detail!! And we can't forget about the beautiful views of the city. These matte paintings were created by Peter Ellenshaw on large sheets of
glass with holes cut to allow light to be shone through, illuminating the city.
Now of course, I do have some problems with this movie but they are purely personal. I want to know more about Mary and Bert. What is there backstory? How do they know each other? Will they actually see each other again? I want details!! But there is one moment I know a lot of people took exception to- that Mary Poppins refused to tell the children she loved them. But I must say that I actually never had this issue which is weird for anyone that knows me. But I seemed to always be OK with the fact that Mary was there to fix the family, not become a part of it. She was there to show Mr. Banks the wonderful gift he had right in front of him.
What I also love about this movie is that it brings together so many wonderful actors. My favourite type of movie are the ones with people in them I love so much that as soon as I finish watching I start looking for another movie with them in it, simply because I'm not finished! And then of course there is the fact that I'm just not ready to let go of that Disney magic!! And so I'd like to share my list of movies I'd like see again having watched Mary Poppins, though not all of them are Disney! I highly recommended everyone check out at least some of these incredible finds!
Ellie- 10/10


Mary Poppins is a magical story that draws me in every time I watch it. What is your favourite part of Mary Poppins? Leave a comment or Tweet to @moviereviewclub